New ideas blossom in new area (2)
08:03, April 02, 2018 China Daily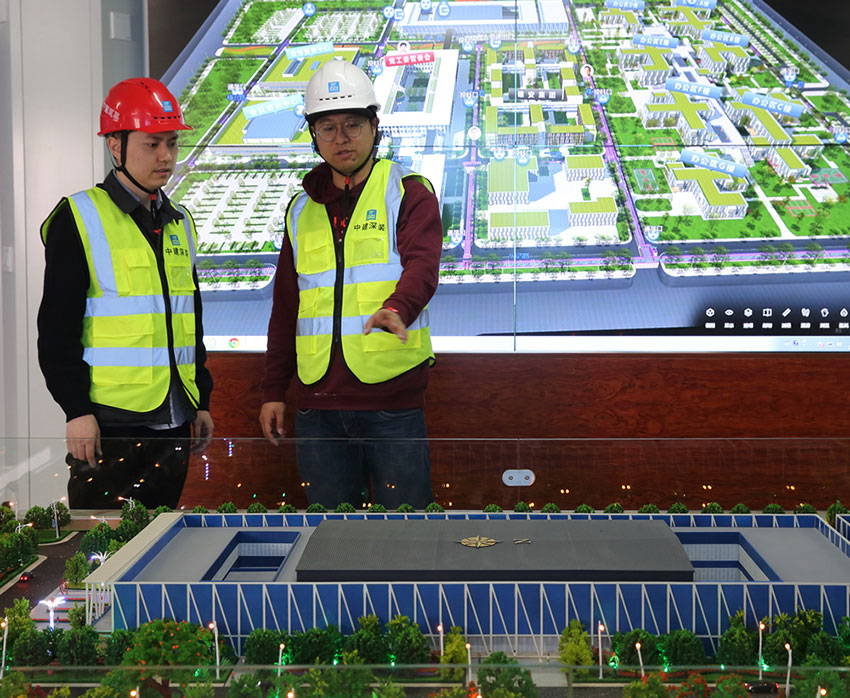 Workers of China State Decoration Group Co., check a scale model of the Citizen Service Center on Thursday. WANG JING / CHINA DAILY
Progressing steadily
On Feb 28, construction began on a railway linking Beijing and Xiongan New Area. The 92.783-kilometer line, with a total investment of 33.38 billion yuan ($5.22 billion), is scheduled to be completed in February 2020.
The huge potential of Xiongan has prompted numerous enterprises, including top technology companies such as Alibaba, Baidu and Tencent, to set up branches there. Many State-owned enterprises also have unveiled plans to take part in the project.
Jack Ma, founder of Alibaba Group, said during the signing ceremony of a cooperation deal between Alibaba and Xiongan New Area on Nov 11 that his company would like to offer its most advanced technology and innovate resources to build Xiongan into an example of China's future city.
Lin Jianhua, president of Peking University, said on March 13 that the university has started cooperation with Xiongan New Area and planned to build a top-class medical studies center to provide scientific research, staff training and medical service for the new area.
Supporting construction of Xiongan New Area is an unshakable responsibility for Peking University, he said.
On March 25, the first innovation and start-up center opened. It is designed to support projects related to new energy, information engineering, new materials and environmental protection.
Eleven companies have signed up with the center, focusing on developing artificial intelligence, internet security, virtual reality, retailing and online education.
According to a report published March 26 in People's Daily, construction of the main structure of the Citizen Service Center already has been completed after months of rapid work. Late last year, China State Construction Engineering Corp won bidding for the 100,000-square-meter Citizen Service Center — now known as the first bid of Xiongan New Area.
He Lifeng, minister of the National Development and Reform Commission, said at a news conference on the sidelines of the top legislature's session last month that development of Xiongan New Area is making steady progress.
An administration has been set up and talent is being recruited from around the country, he said, adding that some existing needs, such as remediation of water, gas and electrical facilities and the restoration of freshwater Baiyangdian Lake, will be addressed gradually.
Tan Xuxiang, director of Beijing Municipal Development and Reform Commission, said the Beijing municipal government has dispatched 23 officials to work in Xiongan and support the construction of the new area.
Beijing will speed up the building of a kindergarten, a primary school, a high school and a hospital in Xiongan to provide excellent education and health service for the new area, he told reporters in March.
Yang Xiyu, a student of Hebei University of Architecture, whose home is in Xiongan, said that since Xiongan was set up, his hometown has become busy as numerous companies invade the area.
"I'm going to graduate soon and I hope that my hometown could become stronger so that I could find a good job there," he said.
Zhang Yiteng, a worker at a hotel in Xiongan, said that he was excited to see the rapid development of the new area during the past year.
"It is going to turn from a small city into a metropolis, with better infrastructure, education, transport and other aspects of life," he said.
【1】
【2】