Xiongan invites international coaches to teach soccer
08:42, February 02, 2018 Chinadaily.com.cn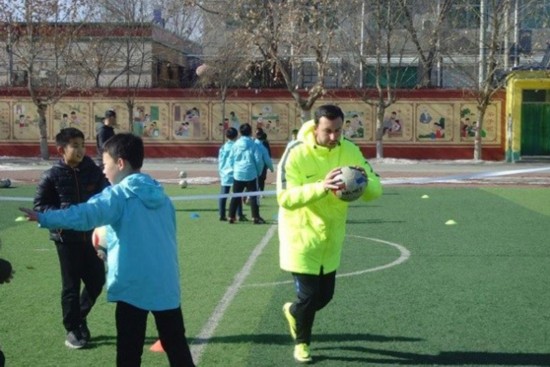 One of the coaches from Football Club Internazionale Milano teaches soccer at Xiongxian No 1 Primary School in North China's Hebei province, Jan 29, 2018. (Photo provided to chinadaily.com.cn)
Xiongan New Area in North China's Hebei province brought in international soccer coaches to train local physical education teachers and students at primary schools.
Two coaches from Football Club Internazionale Milano, a professional Italian soccer club based in Milan, came to Xiongxian county and Rongcheng county in Xiongan last week for a 10-day training program.
The move is to cultivate among youths an interest in playing soccer and to improve teachers' quality of coaching.
It is also one part of a whole program.
Xiongan will carry out a three-year program, which started last year, to improve the new area's education quality, according to Chen Gang, Party chief of Xiongan.
Established in April, Xiongan New Area covers Xiongxian, Rongcheng and Anxin counties in Hebei's Baoding.
The quality of education in the three counties needs to be improved due to its current poor educational infrastructure and less qualified teachers, Chen said.