Measures will be piloted in Xiongan
13:18, May 29, 2018 China Daily
原标题:Measures will be piloted in Xiongan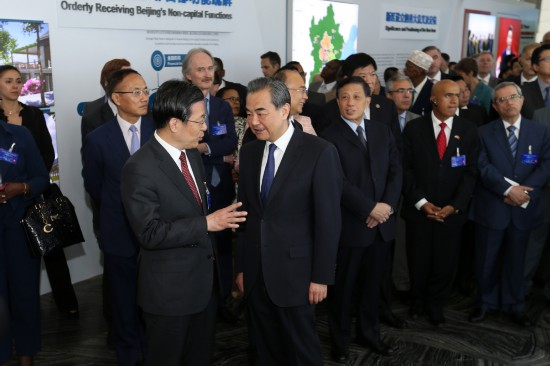 State Councilor and Foreign Minister Wang Yi (center) tours exhibitions promoting Xiongan New Area on Monday at the Foreign Ministry in Beijing with foreign diplomats based in the Chinese capital. Wang said Xiongan will be a role model of China's high-quality development. [Photo by Wang Zhuangfei/China Daily]
A number of reformative and innovative measures looking toward the country's future will be rolled out first, or piloted, in Xiongan New Area, State Councilor and Foreign Minister Wang Yi said on Monday.
Xiongan New Area in the new era "will be a role model of China's high-quality development in the future", Wang said at an event held at the Foreign Ministry to promote the New Area among foreign diplomatic missions in Beijing.
According to a plan for Xiongan released on April 21, it will develop into a modern city that is green, intelligent and livable, with relatively strong competition and a harmonious human-environment interaction.
The area's future buildup will attract more international high-end professionals, technology and finance, he said.
British Ambassador to China Barbara Woodward said at the event that London would like to share expertise and experiences and join the ambitious vision for Xiongan's construction.
Singaporean Ambassador to China Stanley Loh Ka Leung said that the establishment of Xiongan New Area is a bold and farsighted project, adding that Singapore aims to talk with officials of the area and Hebei province on mutually beneficial cooperation.
Wang Dongfeng, secretary of the Hebei Provincial Committee of the Communist Party of China, said Xiongan's construction has achieved initial progress. Xu Qin, Hebei's governor, said the province welcomes foreign friends to share its opportunities.
In April 2017, China announced the establishment of Xiongan New Area, spanning three counties in Hebei. It will serve as the main home for Beijing's noncapital functions.
The plan for the new area has attracted 279 organizations from 18 countries and regions to bid for shaping the area, and it then assembled 12 first-class teams from around the world, Wang Yi said.