Transportation, ecological projects to accelerate in Xiongan
14:20, January 04, 2018 Chinadaily.com.cn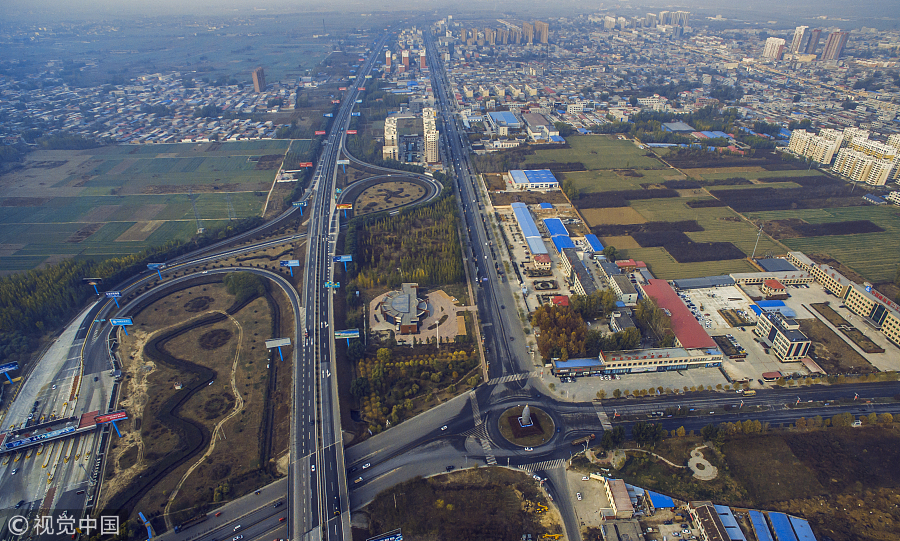 An aerial photo shows Rongcheng county of the Xiongan New Area on Oct 26, 2017. [Photo/VCG]
A report by China Central Television, China's state broadcast network, Tuesday shows a crisscrossed transport network will take shape in the Xiongan New Area in the future.
Upon completion of several high-speed railways, intercity railways and highways, travel time between Xiongan to both Beijing and Tianjin will be reduced to 30 minutes and between Xiongan to Shijiazhuang, capital of Hebei province, will be 60 minutes. And it will take only 20 minutes for people in Xiongan to arrive at Beijing's new airport in Daxing district.
The report came on the heels of a conference on coordinated development of the Beijing-Tianjin-Hebei region, held in Beijing the same day.
According to the conference, the development of transport infrastructure and ecological and environmental projects are expected to accelerate in Xiongan New Area, Xinhua reported.
Presiding over the conference, Vice-Premier Zhang Gaoli highlighted the importance of the area, a new economic zone about 100 kilometers southwest of Beijing designed to integrate the capital with surrounding areas.
Thanks to a concerted effort by experts, the framework plan for Xiongan New Area has basically taken shape, he said.
It is necessary to launch a group of key projects at a proper time and accelerate the development of transport infrastructure and ecological and environmental projects in the Xiongan New Area, Zhang said.
It is also important to invite more domestic and foreign talent to participate in the creation of Xiongan and formulate investment, finance, tax and land policies supporting the development of the area, he added.
China announced plans in April 2017 to establish the Xiongan New Area, which covers Hebei province's Xiongxian, Rongcheng and Anxin counties.
The country aims to "develop forward-looking plans and adopt high standards for building Xiongan New Area", according to the report of the 19th National Congress of the Communist Party of China in October.
Xinhua contributed to the story.